Volkswagen Group CEO Herbert Diess is calling on the German government to act decisively to adopt an extensive package of measures that will make electric vehicles more popular.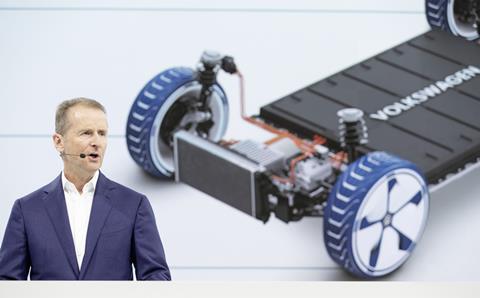 The proposed measures, according to a report in Germany's Sueddeutsche Zeitung (SZ) newspaper, include subsidies, tax relief, tough new rules for companies and even penalties for categories of drivers that resist the move toward electrification.
They also target hybrid-electric vehicles, which Diess doesn't see as a viable powertrain option to meet climate goals.
The VW CEO, who called for a new national effort to specifically promote battery-electric vehicles earlier this month, believes concerted action is needed if European Union CO2 reduction targets of 37.5% by 2030 are to be met. VW believes current measures to boost EV sales and initiatives to build a bigger network of charging stations won't be enough.
VW's new unilateral focus on batteries goes against the common view of the auto industry that a mix of powertrain technologies will be needed for years and decades to come. That difference of opinion has played out in German media ever since Diess made his battery pitch at the group's annual earnings press conference March 12.
According to the SZ report, VW's policy proposal makes the following recommendations:
Germany should double to 600 million euros the funding of battery charging station development and it should speed up approval processes
Penalties should be increased for drivers parking regular vehicles in designated charging spots
A "mobility fund" should be created to provide almost free electricity to owners of vehicles that cost less than €20,000
Alternatively, subsidies for smaller EVs should be raised to levels more than twice as high as those for bigger cars
Purchase subsidies for hybrid-electric vehicles should be halved in the near term and eliminated by 2022
Taxation of hybrid-electric company cars should be increased to the level of regular gasoline and diesel cars by 2023.