Robert Bosch is investing in autonomous trucking company Trunk, a Chinese startup that recently went into production with technology aimed at the $19 billion container logistics market.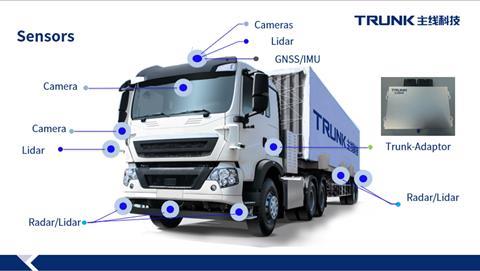 Trunk's combined hardware and software offering uses artificial intelligence specifically designed for logistics processes such as container transportation.
"Trunk's unrivaled AI-based technology enables 24/7 goods transportation with limited human involvement," said Ingo Ramesohl, managing director of Robert Bosch Venture Capital (RBVC). "This is a key step toward achieving logistics automation in the near future."
Bosch made the investment, whose size wasn't revealed, through RBVC.
Trunk's fleet management and remote control software can be fully integrated into customers' operating platforms. It is used, for example by Tianjin port in northern China and by Sinotrucks, a Chinese heavy-duty trucking company.
Bosch said Trunk is wel-positioned to play a leading role in efforts to transform the logistics sector with the help of autonomous systems. Driverless trucks are seen as one way to address the growing problem of truck driver shortages worldwide.
Trunk was founded in 2017. The ocmpany, which is headquartered in Beijing, focuses on so-called level 4 autonomous technology for harbors, highways and urban environments. Level 4 autonomy doesn't require active driver involvement in the autonomous vehicle.