Hyundai Motor and Aptiv are forming a joint venture to speed up the development of highly automated vehicles.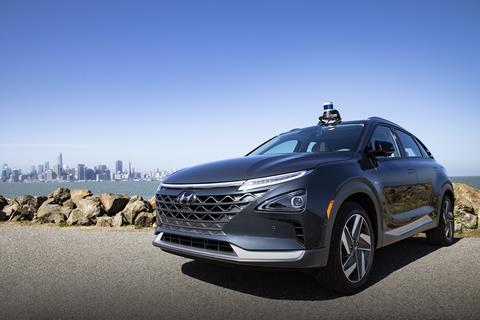 The Korean carmaker, whose brands include Kia, said it will develop with Aptiv an autonomous driving platform that will be available for robotaxi providers, fleet operators and car manufacturers in 2022.
The move is a further acknowledgment that automakers, facing huge development costs across several fronts, are greatly dependent on their suppliers' technologies to bring highly automated – and, eventually, autonomous – vehicles to market in the near to medium term.
At the same time, the autonomous-driving trend provides a massive opportunity for suppliers to build on the connected technologies they have been developing for many years.
Hyundai and Aptiv, a US-based automotive supplier group that was spun off from Delphi in 2017, will each have a 50% ownership stake in the new joint venture. Aptiv will contribute autonomous-driving technology, intellectual property and around 700 employees.
Hyundai, Kia and Hyundai Mobis, a supplier controlled by Hyundai, will contribute $1.6 billion in cash and $400 in vehicle engineering services, R&D, and access to intellectual property.
The two partner companies said their joint venture will focus on Level 4 and 5 autonomous technologies
The two partner companies said their joint venture will focus on Level 4 and 5 autonomous technologies, which will allow vehicles to drive without the need for human involvement.
When such vehicles will be introduced for mixed traffic on public roads is unclear. Many automotive executives have, in recent months, said original targets for deployment early in the next decade are proving to be too optimistic.
Instead, they foresee much more widespread short-term adoption of autonomous technology in shuttles driving predetermined routes and vehicles operating in controlled environments such as airports, ports and other fenced off areas.
Tests planned for 2020
Hyundai and Aptiv said tests of fully driverless systems will start in 2020, two years before they plan to have their autonomous driving platform ready for production.
"The new joint venture marks the start of a journey with Aptiv toward our common goal of commercializing autonomous driving," Euisun Chung, Hyundai executive vice chairman, said in a press release.
Aptiv CEO Kevin Clark said the cooperation will strengthen his company's capabilities in advanced driver assistance systems, vehicle connectivity solutions, and its so-called Smart Vehicle Architecture.
The joint venture, which is subject to regulatory approval expected by the second quarter of 2020, will be led by Karl Iagnemma, president of Aptiv's Autonomous Mobility division. It will be headquartered in Boston, with technology centers across the US and Asia.
In Korea, the company will have a key technology center as well as a base for vehicle modification and a testbed for autonomous driving mobility service platforms.
Hyundai first began testing autonomous vehicles on public roads in the US state of Nevada in 2015. In June, it said it had invested in Aurora, a leading self-driving technology specialist, to accelerate the development of autonomous vehicle technologies. The carmaker, which didn't say how big its investment was, has been collaborating with Aurora since 2018
The Aptiv cooperation underlines its commitment to realizing "fully autonomous driving with the highest level of safety," Hyundai said.
Aptiv already is running more than 100 autonomous vehicles on multiple continents. Its largest commercial deployment of autonomous vehicles is in Las Vegas, where the Lyft ride-sharing service includes a number of BMW sedans equipped with the technology company's systems.