Rival premium-car groups BMW and Daimler officially signed an agreement Thursday to jointly develop technologies that may ultimately lead to the production of fully autonomous vehicles.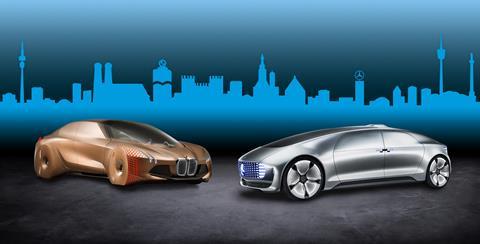 The two German carmakers said their long-term strategic cooperation covers next-generation technologies for driver assistance systems, automated driving on highways and automated parking. One of their goals is to develop a scalable platform for automated driving.
The cooperation, which can be joined by other carmakers and technology companies, underlines the challenges the auto industry faces in developing hugely expensive automated vehicles as well as electric cars. Those costs already are having an impact on automotive companies' bottom line at a time when slower sales growth is expected as fewer urban dwellers opt to own cars.
BMW and Daimler, maker of Mercedes-Benz cars and trucks, earlier this year already merged their mobility services operations in a bid to jointly tap new revenue streams in areas such as car sharing, ride hailing and other new kinds of urban transportation.
The automated-driving cooperation aims to bring joint car systems to market as early as 2024. Those systems would be developed jointly, but integrated differently in the brands' respective car models.
To carry out the project, the partners are bringing together more than 1,200 staff to work in mixed teams in various locations.
BMW and Daimler said those teams will focus in particular on the development of a scalable architecture for driver assistance systems. They also plan to establish a joint data center.
The two carmakers want to develop technologies that can bring cars all the way to so-called level 4 autonomy, which no longer would require driver intervention.
Most carmakers have expanded their time horizon for the introduction of such autonomous vehicles on public roads. A few years ago, many had predicted that driverless cars would be available early in the next decade, but today most projections are for a much later date.
Wolf-Henning Scheider, CEO of supplier ZF Friedrichshafen, told reporters at a press event this week that he didn't expect fully autonomous vehicles on public roads before 2030.
But automotive executives say driverless people movers or robo-taxis could be introduced much faster in controlled environments such as airports and ports. They also say that, with the current state of technology, such autonomous vehicles could come to market quickly if they are deployed on dedicated lanes.