Chinese mobility services provider Didi Chuxing is the first company to use a new Robert Bosch technology to improve the life of electric-vehicle batteries.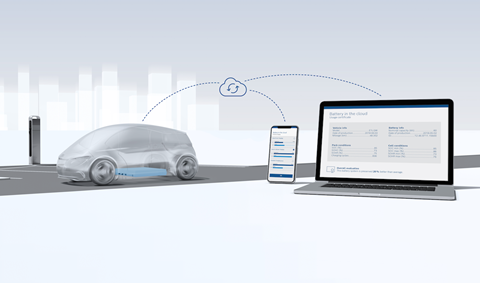 The German automotive supplier said it has developed a new cloud-based service that complements existing battery management systems and can reduce wear and tear on batteries by as much as 20%.
The technology is another building block in efforts to make electric vehicles more convenient to use and more attractive to consumers, the company said. "Powerful batteries with long service lives will make electromobility more viable," Bosch management board member Markus Heyn said in a press release.
By connecting EV batteries to the cloud, "data-based services mean we can substantially improve batteries' performance and exgtend their service life," Heyn added.
As part of the Bosch technology, smart cloud-based software services analyze battery status and act, whenever appropriate, to prevent or slow down the aging of the battery cells.
The software uses real-time vehicle data as well as data from a car's surroundings to identify ways to improve battery life. The technology can optimize recharging processes and provide driving tips for this purpose.
Today's lithium-ion batteries, which power most current EVs, have an average service life of between 500 and 1,000 charge cycles. But rapid battery charging, overly sporty driving, extreme temperatures and other factors can all reduce the life of the batteries.
Bosch said its cloud technology captures all data relevant to the life of the battery. This will make it possible to more reliably forecast how long a battery will perform.
Didi Chuxing is the largest ride-hailing service in China. The company has been pursuing a range of joint ventures with car companies, cities and other mobility stakeholders.
Most recently, local press reports say it proposed a joint venture with carmaker Nissan and its local partner Dongfeng to build tailormade EVs for its ride-hailing operations.