BMW, Daimler, Ford and Volvo have partnered with service providers and national transport authorities to estalish a test pilot that shares information from cars and infrastructure to improve safety.
The vehicle manufacturers are partnering with IT and location providers HERE Technologies and Tom Tom, along with the transport authorities in six European countries, to launch the the first pilot of a neutral server to exchange and combine data. The pilot will test how information about hazardous traffic situations can be used by so-called 'car-to-X' technology – information exchanged between connected cars and infrastructure.
Vehicles will collect data via sensors which will then be shared through a standard interface. The companies will share anonymized safety data or safety services based on that data with the pilot via a cloud-based platform. According to the companies, exchanges will be done on the basis of reciprocity: Those who share safety-relevant data will in return receive services to improve road safety.
The project partners signed a memorandum of understanding in Eindhoven, Netherlands. A test phase, run under the umbrella of a public-private partnership called the European Data Task Force, is scheduled to last 12 months, starting in the Netherlands.
The transport ministries in Germany, Spain, Finland, Luxembourg, the Netherlands and Sweden are supporting the project. The aim of the pilot is to conduct research into the technical, economic and legal aspects of car-to-X, according to the companies.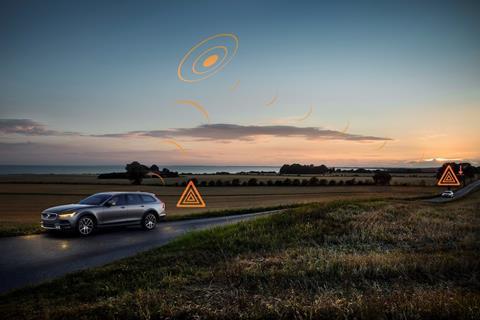 The objective is to trial and improve how shared data can improve traffic safety and services. For example, participating carmakers can use the data to warn drivers of potential dangers on the road ahead, while service providers can deliver this data via their live traffic services and to traffic services operated by national road authorities.
The project partners have each stressed that the pilot and technology are in line with EU law and objectives. EU Directive 866/2013, for example, stipulates that a minimum level of general, road safety related traffic information is to be made available to all users free of charge wherever possible.
In April, the European Parliament approved measures to further require vehicle manufacturers to incorporate more safety and connected technology in cars and trucks by 2022.
Many carmakers already have some form of vehicle communication or mobile radio already available in their vehicles. In 2013, Mercedes-Benz introduced car-to-car communication to the roads in series production vehicles. Car-to-X communication modules are now standard now in all Mercedes-Benz vehicles with a navigation system. Since 2016, Volvo Cars can communicate with each other and warn drivers of nearby slippery road conditions and hazards via a cloud-based network.
But the companies suggest that increasing this sharing across manufacturers, while including IT providers, local authorities and infratructure, will boost overall traffic safety.
"The more vehicles we have sharing safety data in real time, the safer our roads become," said Malin Ekholm, head of the Volvo Cars Safety Centre. "That is why the European Data Task Force is such an important initiative. We hope to bring on board even more partners who share our commitment to safety."
"For the first time we have numerous highly capable and effective partners on board, so that warning messages can reach a large number of road users practically in real time," said Sajjad Khan, executive vice-president and member of divisional board at Mercedes-Benz for CASE (connected, autonomous, shared, electric). "This can save lives.
As of July 1st, the BMW Group will also be the first car manufacturer to make its safety-relevant traffic data available to anyone under a Creative Commons licence.
"The Neutral Server project is the first of its kind and we are proud to blaze this trail with our partners," said Christoph Grote, senior vice-president electronics, BMW Group. "When it comes to road safety, there are no competitors, only partners. Sharing traffic data and vehicle networking via C-V2X2 can immediately and extensively improve safety for all road users."