Renault unveiled an experimental electric and connected van designed to improve the efficiency of so-called "last-mile" deliveries in urban areas.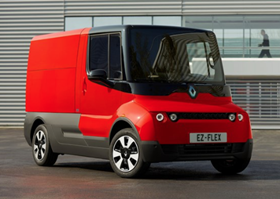 The French carmaker said the EZ-FLEX Is built to meet the needs of delivery-van drivers, with wide access to seats, a large central dashboard and easy access to a range of information.
The EZ-FLEX's HMI connects seamlessly to connected services and applications.
Volumes of transported goods are expected to quadruple by 2050 and more than 60% of all people will likely be living in cities by 2030. Against this backdrop, Renault said continued increases in online purchases will demand more efficient deliveries of packages in cities.
Renault will loan 12 EZ-FLEX vehicles to various professionals, companies and municipalities in an experiment that is expected to last about two years.
The test vehicles will be equipped with sensors and the vehicle data that are generated this way will help Renault to better understand how the van is used and adapted a possible production van to the changing environment of urban logistics.
The carmaker said it will collected a range of data, including geolocation, mileage, range, use of openings, speed and stops.