Volvo Group signed an agreement with Nvidia to jointly develop technology for self-driving commercial vehicles.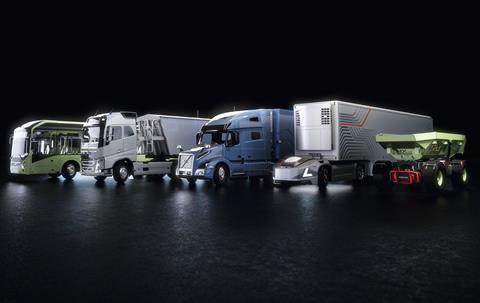 Nvidia will provide an artificial intelligence platform for training, simulation and in-vehicle computing that will help the Swedish truckmaker move ahead with the testing of autonomous vehicle technology, the two companies said in a press release.
At a later stage in the planned cooperation, Vovo commercial vehicles will feature the Nvidia Drive computing platform, which will be running the chipmaker's full software stack for 360-degree sensor processing, mapping and path planning.
Volvo didn't say when it expected to introduce more advanced autonomous-driving functions to its trucks, but it said the Nvidia partnership is an important step on the road to more automation.
"We continue to gradually introduce automated applications in the entire spectrum of automation, from driver support systems to fully autonomous vehicles and machines," Volvo Group CEO Martin Lundstedt said in a press release.
Volvo CTO Lars Stenqvist said in a conference call with journalists that, in introducing autonomous driving, the truckmaker will take into account safety considerations above all else. "We will never start with public roads, but will go for specific use cases, then go to another use case and eventually address more complex situations," he said. "We would never take our solution onto public roads until we're sure we have a safe solution."
Nvidia founder and CEO Jensen Huang added in the same conference call that the appeal of working with Volvo Trucks lies in part in the diversity of the operating conditions under which the company's trucks have to operate. As autonomous technology gets ready for introduction on public roads, "there are many areas where we can deploy early," he said. Geofenced and highly structured environments are some of those areas, he added.
Nvidia said its full software stack for sensor processing, perception, map localization and path planning allows a wide range of possible autonomous driving applications. These include freight transport, refuse and recycling collection, public transport, construction, mining and forestry.
The two companies plan to develop a flexible and scalable autonomous driving system that will initially be used in pilot projects.
Huang said the commercial vehicle market is attractive to his company because of its size and variety. "The commercial vehicle industry we are entering with this partnership is several 100 billion dollars large," he said. Nvidia's technology can add value in business areas that include a wide range of commercial vehicles, he said, including short-haul and long-haul trucks, buses, shuttles, people movers and industrial machinery.