Joe Hinrichs takes on more responsibilities across product and technology; former CIO Marcy Klevorn to retire.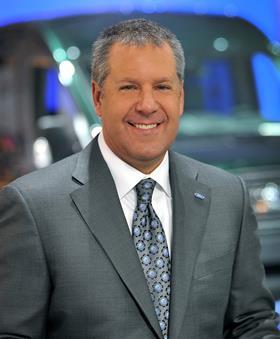 Joe Hinrichs will become Ford Motor's president, automotive, from May 1, as one of a series of top management changes the company is making during its ongoing, worldwide reorganisation. Hinrichs has served the automaker for 19 years, most recently leading its global operations.
"Joe Hinrichs possesses the knowledge, experience and leadership to now take our automotive business to world-class levels of product excellence, customer satisfaction, efficiency and financial performance," said Ford CEO Jim Hackett.
As executive vice-president and president of Ford's global operations, Hinrichs currently has responsibility for manufacturing and labour affairs; quality; information technology; sustainability; environmental and safety engineering; order-to-delivery; and the customer service division.
In his new role, he will be in charge of the North America, South America, Europe, China and international markets business units and will oversee divisions ranging from product development to purchasing to manufacturing and sales and service.
Farley gets new role, Klevorn to retire
Also from May 1, Jim Farley will become president, new businesses, technology and strategy, with a mission, the company says, to spearhead its transformation into a higher growth, higher margin business through the use of smart, connected vehicles and "breakthrough customer experiences". He moves from being executive vice-president and president of global markets.
In his new role, Farley
will oversee corporate strategy; global data insights and analytics; global partnerships; research and advanced engineering; and Ford's smart mobility and autonomous vehicles
(AVs)
.
"[His new] job is to drive us into the future, both strategically and operationally, from AVs to mobility experiences to leveraging AI [artificial intelligence] and big data," said CEO Hackett. "Jim combines an innate feel for what customers want and need in vehicles and the ability to translate this into the vehicles and services of the future."
Meanwhile, after 36 years with the company, Marcy Klevorn, president of Ford Mobility, has announced plans to retire on October 1. Until then, the automaker says, she will work with senior leaders on major transformational opportunities, forming partnerships with key technology partners and supporting the company's diversity efforts.
Before she took on her current responsibilities, Klevorn served as Ford Motor CIO.