Seat has a long history of making affordable and reliable cars. Now the Spanish brand, part of the Volkswagen Group, is getting ready to build electric cars. Seat CEO Luca de Meo recently spoke to Automotive Manufacturing Solutions, a sister publication of automotiveIT International. Following are excerpts from the interview
Seat recently announced plans to launch six electric and plug-in hybrid models by 2021. How do you intend to do this?
The good news is that Volkswagen will enter the market with a car based on the Modular Electric Drive (MEB), and we will be the second brand in the Group to bring a car to market based on the platform. Skoda (a sister brand within the VW Group) has decided to go on to the SUV platform, which comes a few months later. So it's a kind of a premiere for us because we were used to reactivating old platforms. Now we have the chance to jump on the state-of-the-art technology base and I am sure we're going to get into something good out of it.
Can you provide some more detail on the first car Seat will make using the MEB platform?
The car that we will bring to market on the MEB platform will be similar to the el-Born Concept hatchback that we showed at the Geneva Motor Show. Many people liked it because we were able to give it the Seat touch, a sporty dynamic concept with a progressive design.
Do you expect high demand for your first all-electric car on the MEB platform?
We will see what happens when it comes to demand, but we have no choice other than to make the cars. The (European emissions) rules are based on a fleet average, so we have to sell electric cars in order to be able to sell other vehicles too. Otherwise we will get fined.
How will the inclusion of electric motors and batteries on the assembly line change the way your plants operate?
For the time being we don't have a concrete plan to make electric cars at our Spanish plant in Martorell because the idea is that the VW Group will centralise the production of vehicles on the MEB platform in order to achieve efficiency and synergies. This means we will avoid making big changes to all our plants just to make a small amount of electric cars everywhere. But one day, I think electric car production will also start here at Martorell.
SEAT is taking advantage of the VW Group's MEB platform to make EVs at a lower cost. But they will still cost more than traditionally powered cars, right?
We will have a technology jump with electrification, so of course the prices of vehicles will go up. But then, as the processes start to get more familiar and efficient and the production volumes increase, the prices will get lower.
Do you think the market is ready for this jump? Are there fears that the price of the whole range will increase?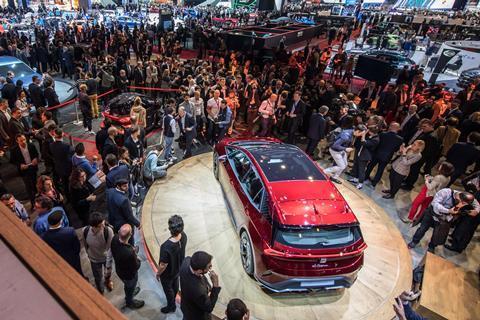 It depends. In 2007 or 2008 the electronics industry got rid of buttons and replaced them with a screen so the mobile phone was much more expensive. And then slowly the technology improved, new entrants hit the market and the cost dropped. I think this kind of pattern is normal in every industry.
How much further can gasoline and diesel engines be improved in terms of emissions?
I think on the gasoline side we will probably achieve around a 10 to 15% improvement on the performance – that's what I'm hearing from the engineers. We will probably see a lot of gasoline engines with mild hybrid, and that will allow us to reduce CO2 emissions by another four to seven grams, but no more. To go beyond that we will need plug-in hybrids, and that costs a lot of money because we are basically putting two engines in the machine. So this technology is good for premium cars and for SUVs, but not for an Ibiza.
And diesel?
Diesel – I am not sure how it will go. Seat is less dependent on diesel than many other brands because we sell a lot of small cars and we already identified the trend of diesel sales going down back in 2012. We also don't know how the Euro 7 regulation will be when it comes to diesel, but it will likely take a lot of money and technological improvement, so there will be a trend whereby diesel engines become more expensive.
And what about other alternative fuels such as compressed natural gas (CNG)?
Governments are favouring the push for electric cars. But I'm kind of a supporter of other fuels like CNG because, first of all, it makes a lot of sense for the consumer. It's cheap and it will continue to be cheap. Gas prices are much more stable than petrol. And in Spain, to run 100km with CNG you pay less than three euros, while for a gasoline car it is around seven. It also has the same level of CO2 as diesel, but there are no particulate emissions with CNG.
(The full interview with Luca de Meo is available at Automotive Manufacturing Solutions.)