Ford and Agility Robotics have developed a robot that delivers home parcels – and draws on the hardware and sensors of self-driving vehicles to do it. 
Forget drones. Ford is working with a startup to develop a walking, lifting robot capable of completing home deliveries to customers' door. And they do it, in part, by sharing the compute power, mapping and data processing of another powerful robot – a self-driving car.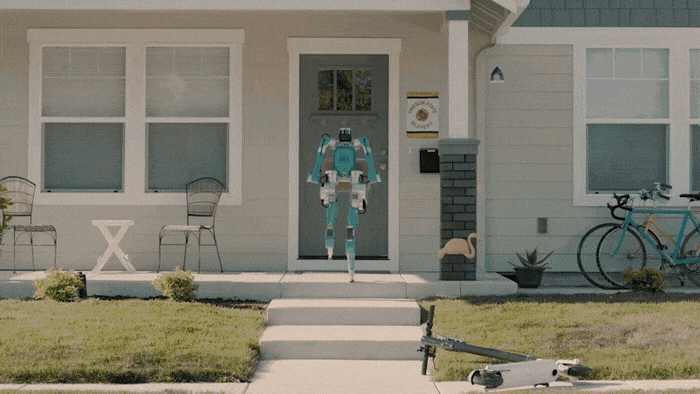 Agility Robotics, a dynamic robotics firm based in Oregon, has created a human-like robot called Digit, capable of carrying packages up to 40 pounds (16 kilos). Combined with arrival in a self-driving car, Digit, which can fold tightly into the trunk of a vehicle, picks up the goods and walks to the door to complete the full automation of parcel deliveries.
Dr Ken Washington, chief technology officer at Ford Research and Advanced Engineering, writes that such a robot could help increase the utilization of self-driving vehicles. For example, a ride-hailing trip could be double as a delivery service, dropping off packages in between transporting passengers.
But as well as presenting further opportunities for delivery and logistics automation, Digit is particularly interesting for the computing and data sharing that it can carry out with connected and autonomous vehicles.
Washington writes that to help keep Digit lightweight and reduce its hardware, it shares the environmental mapping that its accompanied autonomous vehicle would generate. "When a self-driving vehicle brings Digit to its final destination, the vehicle can wirelessly deliver all the information it needs, including the best pathway to the front door. Through this data exchange, Digit can work collaboratively with a vehicle to situate itself and begin making its delivery," he said.
Digit has LiDAR and a few stereo cameras to give it the sensory power to navigate basic scenarios. But it can also send an image back to the vehicle and have the vehicle configure a solution. The car could then send that information into the cloud and request help from other systems to help Digit to navigate.
Digit doesn't seem quite ready to knock on doors just yet. But Washington said that Ford is working with Agility to combine Digit with self-driving vehicles in future.
But robots making use of autonomous vehicle technology are gaining further traction at the carmaker, even without the eerrily human-like movements.. For the past year, it has been trialing self-guiding robots at its factory in Spain to move parts.
See Digit in action below: