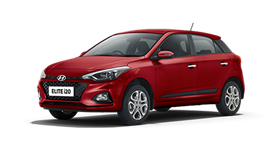 Hyundai Motor Group will invest $300 million in Indian ride-hailing platform Ola, using the country's fast-growing market as a springboard for global new-mobility intiatives.
"India is the centerpiece of Hyundai Motor Group's strategy to gain leadership in the global mobility market," Euisun Chung, executive vice chairman of Hyundai, said in a press release.
Hyundai and its sister brand Kia will work with Ola to develop a new fleet of vehicles, build India-specific electric cars and work on creating a viable infrastructure for EVs.
The partnership with Ola marks the first time Hyundai will enter into the fleet management business. The move is part of the Korean carmaker's plan to become what it calls a "smart mobility solutions provider."
The strategy means Hyundai wants to expand beyond car manufacturing and sales into broader automotive business areas, including a range of mobility services.
As part of the agreement, the three companies will also cooperate on the development of cars specifically designed for ride hailing.