Audi's use of virtual-reality and augmented-reality tools to train technicians to work on electric vehicles is pointing the way towards a wider use of the technology across dealerships, sales channels and the aftermarket.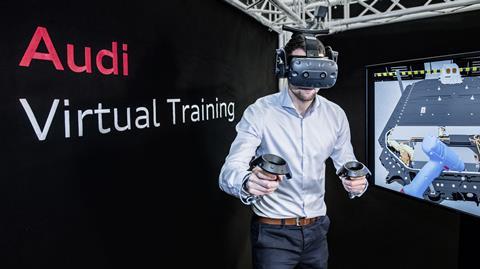 Audi is joining other vehicle brands in the Volkswagen Group, as well as Mercedes-Benz, BMW, Nissan and others in exploring opportunities to digitalize service bay training, operations and customer service with a range of smart glasses, visualization and tablet technology that saves time, travel costs and provides more customer options.
Audi has revealed that it is using VR-based tools for technical trainers and service technicians to work on its all-electric e-tron SUV, which began delivery to dealers in Europe this past spring. The technology allows workers to carry out realistic and safe learning remotely on a range of new technical features and components.
Audi has highlighted in particular the benefits of using VR and AR to train workers how to handle sensitive technologies such as the high-voltage battery. Technicians use VR to learn how to open the battery, change a switch box or change a module. According to Audi, the training could take place more quickly across markets, while also minimizing the risk of damage or injury in handling batteries. The software makes use of gamification techniques, or 'playful' elements to increase users' motivation, according to the company.
"We want to provide our service partners with the best possible support during the transformation towards electric mobility, while digitally aligning our training offering," said Markus Siebrecht, head of after sales at Audi. "This is why we have been working intensively on innovative training concepts for the required qualification profiles.
"The targeted use of virtual reality is an important building block in this process," he added.
The VR service technology is based on a modular solution that Audi also uses in other stages of training and operations that deal with new products and electric vehicles, including product development, design, logistics and production – data from which can also be applied when training technicians. For example, standard interactions such as how to grip components are pre-programmed, and design data such as for the battery can be imported into existing environment templates. This reduces production and development costs and makes the use of virtual reality in series production affordable, according to the company.
Last year, Audi started using this specific VR training solution for logistics training, for example for workers to practice 'pick-by-light' processes in production and materials handling at its main German plants.
The carmaker has plans to extend the use of the technology in other service and aftermarket applications. It is currently developing an application using tablets for car body experts to view the e-tron as a 3D model in real size. Animations then show the service technicians the individual repair steps in detail.
Volkswagen Group has been trailing a range of VR training and service tools, including remote maintenance for commercial vans in the UK. The carmakers is uses smart glasses as a virtual technical support agent, guiding technicians through repairs through augmented images, wiring diagrams and added suggestions.
Last year, Porsche started rolling out its 'Tech Live Look' program to US dealerships, which connected technicians to remote experts via smartglasses. Porsche has said it can reduce service times by up to 40%.In cooperation with Google, Porsche is also introducing "Mission E Augmented Reality," an app-based AR implementation that lets customers look at various details of Porsche's electric sports model.
Manufacturers are also increasingly turning to AR/VR to support vehicle sales and marketing experiences. Nissan, for example, has been rolling out a comprehensive use of tablets to help customers choose and customise vehicles at dealerships. Mercedes-Benz is using an app that allows customers to configure models including the new A-Class on phones and tablets.