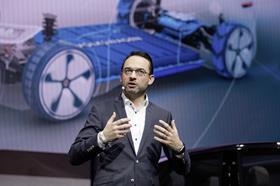 Christian Senger is set to take charge of all software-related matters at Volkswagen Group.
Senger, who currently heads the VW brand's electrification strategy, will take charge of vehicle software at the carmaker's core division in a new management board-level position, company sources say. He is also expected to assume responsibility for group-wide software development.
The appointment, which underscores the rapidly growing importance of software in cars, comes after VW Group CEO Herbert Diess said recently that he wanted to create a dedicated automotive software unit for VW.
Diess today is personally responsible for vehicle software development, another sign that VW and the auto industry in general is taking note of the crucial role played by software in defining tomorrow's mobility.
Senger started his automotive career at BMW in 1997. From 2010, he oversaw product concepts for the premium car maker's i3 and i8 electric model range.
In 2012, Senger joined automotive supplier group Continental, where he headed technology development for autonomous vehicles and electrification.
He moved to VW in 2016 and has been overseeing the development of the VW brand's modular electric platform.
In an interview with automotiveIT International at the 2017 Frankfurt auto show, Senger expressed confidence in a mobility future with mostly full electric vehicles. "When we go into big volume production, I think the only real value for the customer is a pure electric vehicle," he said.
Senger also cited potential for fuel cells in the commercial vehicle area, but noted that, in passenger cars, "the biggest competitor for fuel cells is the continuing improvement in battery technology."