Fiat Chrysler Automobiles will use Harman and Google technology to offer owners of its cars an expanded range of connected services.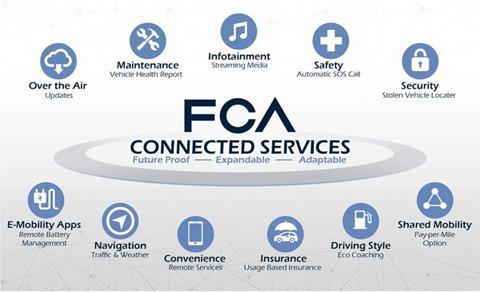 The Italian-American car group said a new cloud-based platform built by Harman will deliver services to FCA vehicle owners worldwide.
Inside the vehicles, FCA's Uconnect infotainment system will deploy Google's Android to provide an app-based environment.
The news, which follows similar announcements by several other global car brands, is further evidence of the growing collaboration between the automotive and high-tech industries. Ford Motor last week signed a multi-year global agreement with Amazon Web Services (AWS) to further develop its offering of cloud connectivity services and connected-car applications.
Especially in the area of connectivity, automakers hope to build on the expertise gained over years by partners in the digital and consumer-electronics sectors.
FCA's choice of Harman, which is owned by Korean technology group Samsung, and Google marks "an efficient and responsible utilization of capital," FCA's chief technology officer, Harald Wester, said in a press release. He added that the ecosystem FCA will build with the two companies "not only deploys today's technology, but is also ready to integrate upcoming innovations."
Harman's cloud-based platform will let FCA manage in-vehicle and other data. Users can, for example, get predictive maintenance information, locate fuel and charging stations and get traffic updates. Live customer-care assistance is also part of the options.
OTA will be available
One feature of the platform will be its ability to run over-the-air (OTA) software updates, a key requirement to keep tomorrow's vehicle systems secure and current. "Harman Ignite and our award-winning OTA are essential ingredients of the future of connected cars," Harman CEO Dinesh Paliwal said. Ignite is the name of Harman's cloud architecture.
The FCA platform will support 5G connectivity once it becomes available. It also can be deployed anywhere in the world and will continect to any service provider.
FCA said its connected ecosystem will support the mobility services the carmaker will roll out as well as applications specifically built for electric vehicles. Such apps include pay-per-mile options, usage-based insurance, and various forms of car rental and car sharing.
The key components of the system will start a phased global rollout in the second half of 2019. FCA said all its new vehicles will be connected by 2022.