A side-effect of online shopping is the increase in urban congestion and pollution, caused by the proliferation of delivery vans. According to Ford, journey times in London have risen by 40% in the last three years.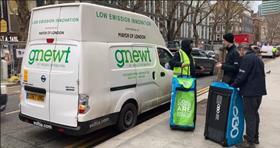 In a bid to counter this, Ford is trialling software that will direct drivers to a micro-consolidation point. Pedestrian and cycle couriers will then perform the last leg of delivery.
For the trial, Gnewt will use Ford's multi‑modal routing and logistics software MoDe:Link
.
This manages all aspects of parcel delivery from depot to doorstep, according to the company
.
"Our goal is to keep larger vehicles operating in the high‑load, less‑congested environments in which they perform best," said Tom Thompson, project lead, Ford Mobility
.
"For the last mile of a journey into an urban area, it makes sense to offload deliveries to more nimble, efficient and cost‑effective modes of transport
."
The "warehouse on wheels" concept
is designed
to be compatible with Ford vans and other manufacturers
.
The vans act as dynamic delivery hubs that collect orders from a depot and then stop at strategic locations outside city centres.
The software then connects with nearby foot couriers to fulfil the last leg of each delivery.
In future bicycle couriers, drones and autonomous robots may fulfil the last stage
.
Ford claims one van and a team of four foot couriers could deliver the same number of parcels as five individual vans, as part of a multi‑modal network
.
Gnewt operates the largest fully-electric delivery fleet in the UK with more than 70 electric vans
. It delivers three million parcels a year to consumers and businesses in London
"We want to change the way
we think
about moving goods around our cities," said Sam Clarke, founder and head of business development, Gnewt
.
"We are keen to understand how multi‑modal deliveries can benefit our business, our customers, and – by promoting active travel and the associated health and environmental benefits of walking and cycling – our employees too
. I'm
delighted
to be working with Ford and helping to trial its revolutionary new software solution
."
Ford is also working with Transport for London on a project to trial 20 plug‑in hybrid Transit vans run on electric power, which is
being extended to the City of Valencia, Spain and Cologne, Germany this year.
In the US, Ford teamed up with Postmates, an on‑demand delivery platform in Miami to operate a self-driving delivery service
.
https://www.youtube.com/watch?time_continue=117&v=U7UJGCxNspo