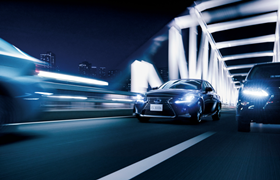 Toyota Motor this week became the next major car brand to test a subscription service, following in the footsteps of German and American competitors that are already running such programs.
The Japanese carmaker said it has formed a new company called Kinto to manage a car subscription service in the greater Tokyo area.
Toyota cited a societal shift away from conventional car ownership to a new kind of car usage model. "There is a growing need for a service that allows customers to freely select the car that they like or want to drive and enjoy it as they like, instead of using a car simply as a means of transportation," it said in a press release.
Kinto will offer two services in Japan. "Kinto One" lets a customer drive one Toyota-brand vehicle over a three-year period. The other service, which is called "Kinto Select," gives customers the option to drive six Lexus premium-brand models over a three-year period.
Customers can apply for both services online or through Toyota and Lexus dealerships. They will pay a fixed monthly charge for the service, which includes insurance, vehicle tax, registration charges and regularly scheduled maintenance. The insurance option is only available for the Kinto One package.
Toyota said the subscriptions will be offered on a trial basis in the Tokyo area, but a nationwide rollout is planned starting this summer.